Come with us on your Abel Tasman National adventure
A guided walk on the Abel Tasman Coastal Track is something truly special.  Our guides live and breath the Abel Tasman so they have in-depth knowledge of all its secrets, history and wildlife, and they love to share it.  They also love to share a joke or a yarn and have a way to make your walk seem like a gentle stroll.
Our guided packages are all inclusive with all your meals, accommodation and transport handled.  With our large range of options you can cater a walk that meets your dreams and desires.  With a glass of wine in your hand at the end of each day delight in this completely stress free way to experience the Abel Tasman.
See our 1 and 2 Day, 3 Day and 4 Day options below to find the trip best suited to you!
3 Day Guided Options

Relish the wonders the Abel Tasman National Park has around every corner over the span of a long weekend. It's easy to see why this is the most popular, and recommended, length of stay.  There is plenty of time to get your feet wet and soak up the sun.
3 Day Classic Guided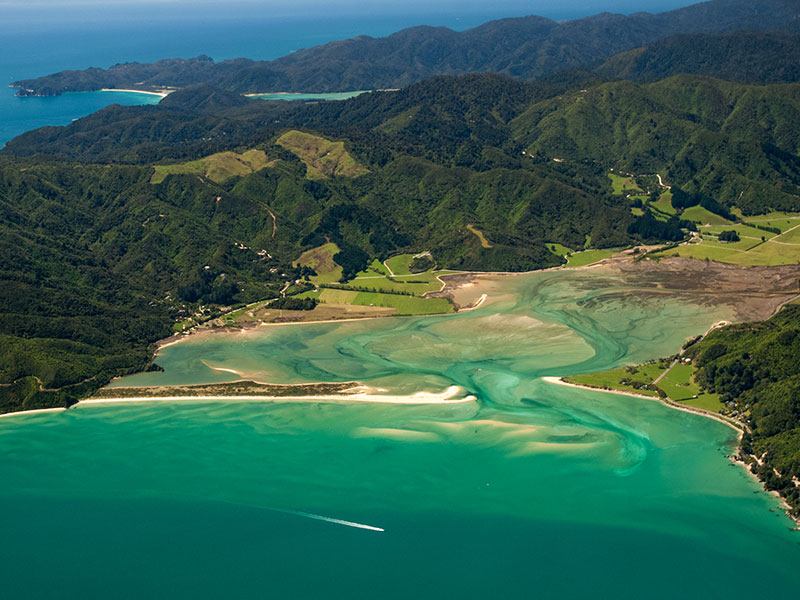 Walk through the heart of the Abel Tasman Coastal Track and enjoy some kiwi hospitality
Come with us and spend a magical 3 days walking the most popular part of the Abel Tasman Coastal Track.  Discover all it has to offer with your wonderful guide sharing its stories along the way.  This all inclusive package offers you accommodation in enchanting accommodation with that perfect blend of comfort and Kiwi hospitality.  Come and create your perfect trip with us and we'll make it seem effortless.
3 Day North Guided
Stay in Luxury Accommodation and enjoy the beauty of the Northern region Abel Tasman National Park
Stay in the most luxurious accommodation in the area so you can relax in well-earned comfort after a day on the track. Enjoy dining in 4 star restaurants, all included! We customise every walking itinerary to the tidal conditions, and ensure every trip is a unique experience encompassing individual aspirations.
4 Day Guided Options

4 Day Guided Walks include all the wonders of a 3 day walk with an extra day to explore the area even further.  Walk the full length of the Abel Tasman Coastal Track or take a day to explore by sea in a kayak.
We can talk you through all your options and organise your dream adventure – all you need to do is get in touch.
4 Day Classic Guided
Take your time and enjoy relaxing in luxury 
Wander from Marahau to Totaranui with our wonderful guide to keep you company along the way.  Fit in a whole day to recuperate on the stunning golden sand beach or get a different perspective and join a guided kayak tour.
4 Day All the Way Guided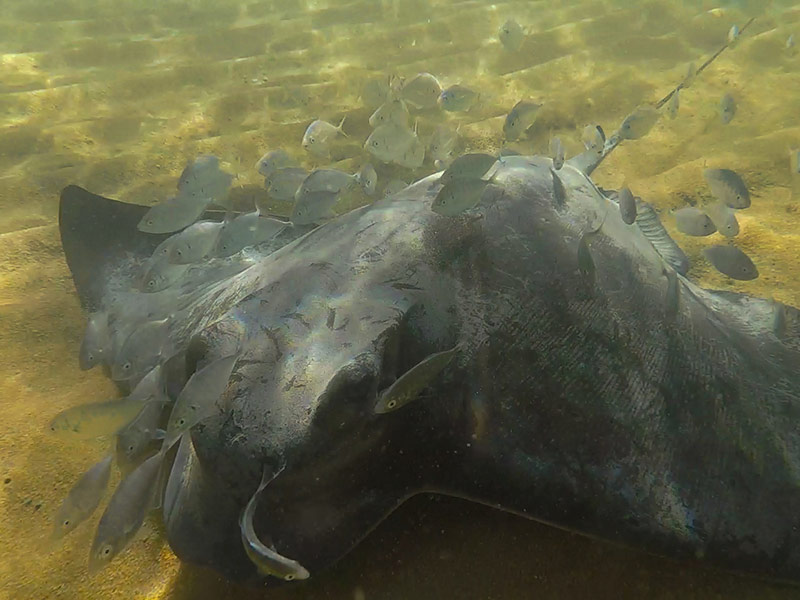 Come with us from start to finish of the Abel Tasman Coastal Track
Let your guide show you the whole Abel Tasman Coastal Track while captivating you with the stories and inside knowledge that abound from this area.  Walk the path less travelled through the northern section of the track and enjoy it all hassle-free while we take care of everything.
1 & 2 Day Guided Options

For those with the tightest travel schedules. Be whisked away from your base in Nelson, and get a taste for what makes the Abel Tasman Coastal Track one of New Zealand's greatest treasures.
Spend two days exploring stunning native bush and golden sand bays, staying overnight in some of the most wonderful accommodation in the area. And if you only have one day, our guides can fast track you deep into the National Park to experience some of the key highlights of this pristine paradise.
Deep in the Park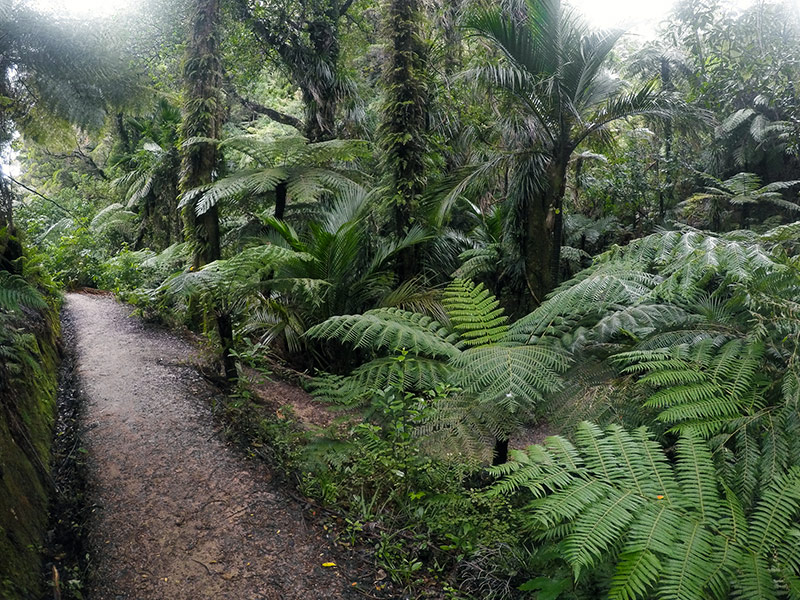 Completely immerse yourself in the Abel Tasman for a whole day
For those who only have a day to spare but want to want to walk in paradise.  Spend the day with your guide getting a feel for the wonders this national park holds.
Beaches and Bush
Fit a wonderful day in the Abel Tasman into your busy schedule and you won't regret it
Let us take you away to this picturesque corner of perfection to discover why it is the most popular great walk in New Zealand.  You'll wonder why you haven't come sooner!
2 Day South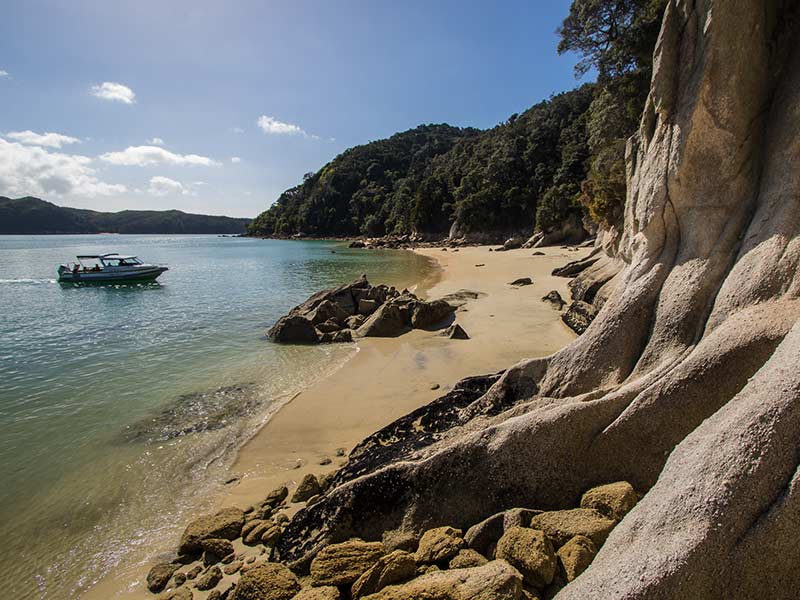 The most kiwi way to spend a weekend
Let us show you our favourite part of the track and spend your evening onboard the unique Aquapackers boat with true blue kiwi hospitality.
2 Day North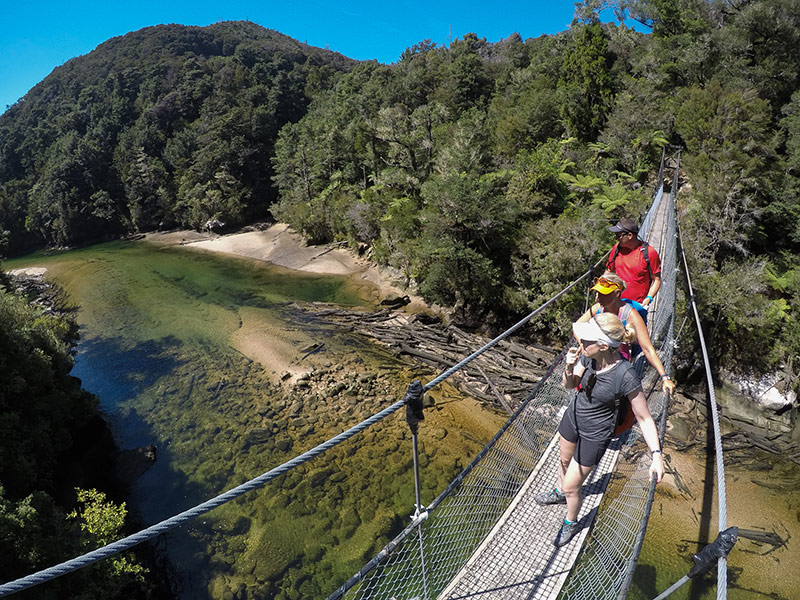 Get straight to the heart of the park on an overnight adventure
Let your guide take you through the best features of the Abel Tasman Coastal Track and enjoy a night of luxury at one of the most remote lodges in New Zealand.