Why not add on some kayaking as part of your trip?
It's easy to see why kayaking along the Abel Tasman Coastal Track has become world famous. Paddle along golden sand coastlines, into quiet bays, through marine reserves with plenty of native marine life. No trip to the Abel Tasman is complete without getting out on the water.
We can organise guided or independent kayaking at various points along the track.
We can also arrange multi-day kayak trips in the Abel Tasman National Park.
Kayak options departing from Marahau

Half-day Guided Trips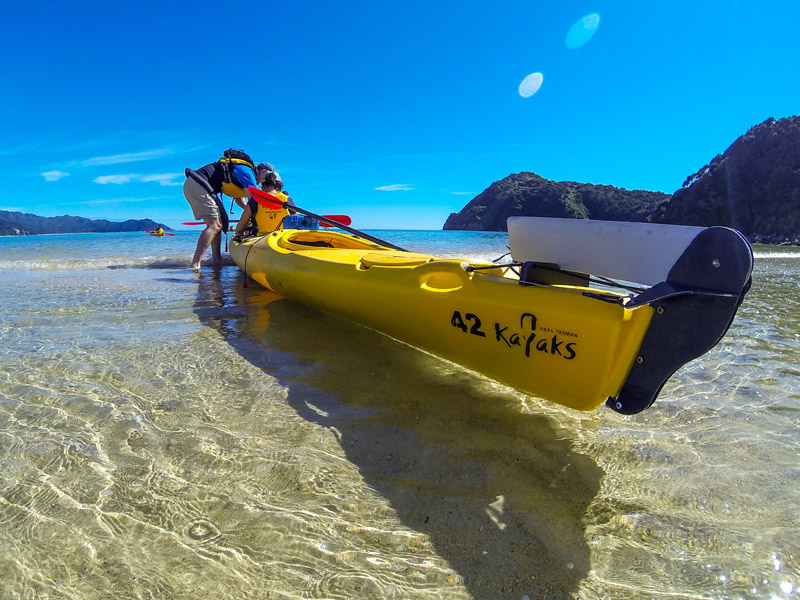 Kayak from Marahau to Observation Beach – a half day guided trip paddling through the Astrolabe Roadstead and passing beautiful golden sand beaches along the way. Learn from your guide about the natural and human history of this landscape. Round off this wonderful day with a leisurely walk from Observation Beach to Anchorage.
PRICE: $150 per person (minimum 2 guests, age limit 12 years)
Freedom Rentals
You can hire a kayak for a day, and after a mandatory safety briefing you are off, independently exploring the coastline of granite outcrops and golden sand beaches. Cross the Astrolabe Roadstead and check out Fisherman's and Adele Islands, before finishing at Anchorage or Observation Beach.
PRICE: $110 per person, includes kayak retrieval from Anchorage or Observation Beach (minimum 2 guests, age limit 14 years). Or you could return to Marahau – price: $90 per person (minimum 2 guests)
Kayak options departing from Anchorage

Half-day Family Kayak Adventure
The perfect kayak trip for families – departing from the beach in Anchorage and exploring the perfect beaches, rocky headlands and islands in the sheltered Anchorage Bay.
Meet the guide on the beach and after a short how to session paddle off in this perfect setting.  The guide will structure the trip to match the abilities of the participants and you will arrive back at Anchorage Beach having had a wonderful paddle & explore. The trip is best to do in the mornings and suitable for children 8 years and above and for first time kayakers. Lunch & hot drinks included.
PRICE: $115 per child (8 – 14 years)/ $230 per adult (minimum 4 guests)
Marine Reserve Full-day Guided Trip
Start the day from Anchorage with a water taxi north to the golden expanse of Onetahuti beach, where your guide will get you set up with your kayak. You'll head off to the Tonga Island Marine reserve, to discover New Zealand fur seals – and maybe little blue penguins. The fur seals are extremely good swimmers and its great to see them in their natural environment on Tonga Island. Then paddle south with the breeze, exploring sculptured granite headlands, tranquil lagoons and everything that's special about the heart of the Abel Tasman, before ending up back in Anchorage. Your guide has many stories of Maori and European settlers, and the natural history of this picturesque area.
PRICE: $275 per person, includes lunch (minimum 2 guests, age limit 12 years)
Kayak options departing from Awaroa

Half-day Awaroa Kayak Adventure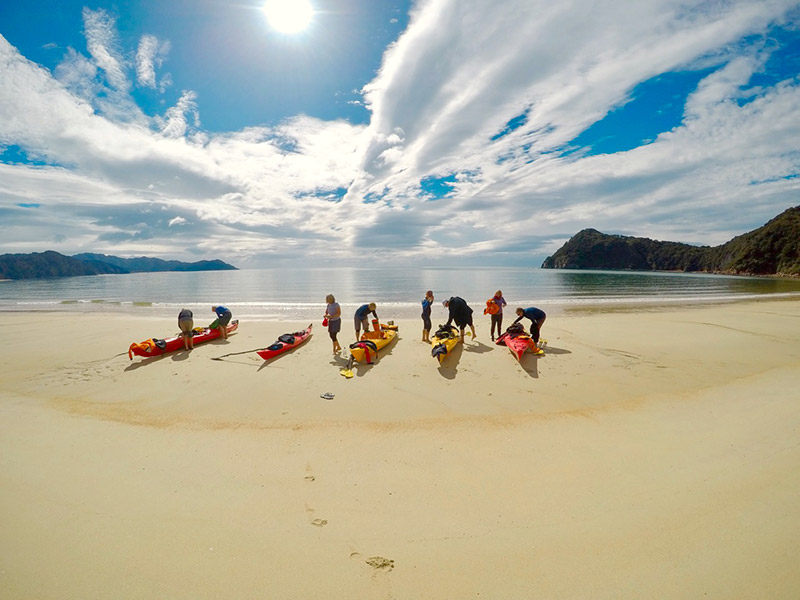 This trip begins on Awaroa Beach in front of Awaroa Lodge – the perfect trip for those staying at Awaroa Lodge or surrounds. The Awaroa area is an exciting and dynamic environment and your Awaroa based guides use their knowledge of tides and weather patterns to run the best possible trip for you given the conditions of the day. The guided kayak trip last for 3 – 3.5 hours including a pre-trip safety briefing and a 20 – 30 minute stop on a secluded beach. Your  guide breaks up the trip by providing fascinating commentary at notable points along the way. Hot drinks & snacks are provided on the beach.
No experience is required for the trip – minimum age 12 years old
PRICE: $145 per person (minimum 2 guests)
Remote Coast Long Half-day Trip
Leave straight off the beach at Awaroa, and head to Shag Harbour (tide dependent) – a hidden inlet like nowhere else in the Abel Tasman. We then paddle south, focusing on the Tonga Island Marine Reserve and its playful inhabitants – the New Zealand fur seal and perhaps even some little blue penguins. After a great picnic lunch on one of the beautiful beaches we'll paddle past delightful rock sculptures and peaceful lagoons to our final destination at Onetahuti Beach. Finish up with an hour walk back to Awaroa. The best thing about this wonderful trip is that you see plenty of seals and very few fellow kayakers!
PRICE: $285 per person, includes lunch (minimum 2 guests, age limit 14 years)
We can also arrange multi-day kayak trips in the Abel Tasman National Park