With everything taken care of enjoy your independent Abel Tasman Walk with complete peace of mind
The Abel Tasman is one of New Zealand's greatest treasures.  Get the sand between your toes, swim its gorgeous bays and walk in the amazing forest. With so much to do, it's easy to understand why people love spending at least three days in the Abel Tasman National Park.
This self-guided Abel Tasman Walk allows you to enjoy the track at your own pace while providing all the information and logistics services that you'll need. We create customised itineraries that include critical tidal crossing timelines and take care of a myriad of logistics, including transportation to the Abel Tasman Coast Track, accommodation bookings (you can choose to stay in the type of accommodation best suited to your tastes) and luggage transfers. Detailed notes, including tide times, maps, and advice on what to bring and when to walk will also be provided.
The plan we develop for your personalised trip enables you to keep an independent approach to your journey while getting the absolute most of out of your experience.

PRICE:
NZD$1099 per person Share Twin
Includes:
Transport from your Nelson accommodation to Marahau and back to Nelson
2 nights accommodation during your walk
Bag transfers between your accommodations (you only carry a daypack)
Water taxi transportation
Dinner and breakfast at Anchorage Camp (breakfast only for B&B option)
Continental breakfast at Awaroa Lodge
3 packed lunches
Personalised itinerary and maps for your trip
Arrival briefing from our team in Marahau before your trip
A single supplement will apply if single occupancy is required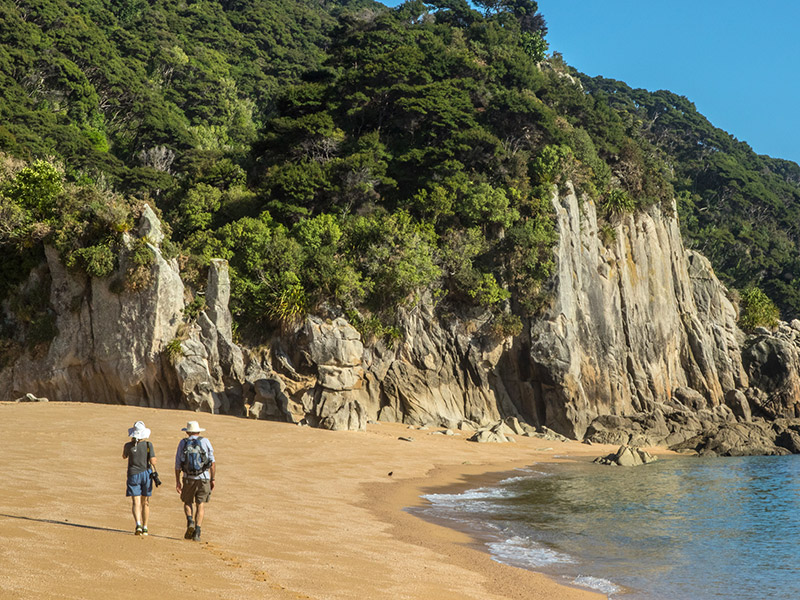 Itinerary
NOTE – There are areas on the track that can only be crossed at low tide – tide times change by approximately 1 hour a day which means your itinerary may go in the opposite direction to the itinerary detailed below.
Approx 4 hours walking – 12.4kms
The trip begins when we pick you up from your accommodation in the Nelson area and transport you to Marahau. Then check in your bag, collect your lunch and receive a briefing from our staff before heading off on the track.
On the trail you will spend the day hiking, swimming, exploring the forest and enjoying golden sand beaches on the way to Anchorage. In the evening you have the choice of 2 types of accommodation, depending on availability and your preference:
A tenting experience in our Kathmandu Retreat 280 tents at Anchorage Campground, complete with our own camp guide to look after you and prepare your meals.  Sleep in comfort on our Kathmandu Cabana 75mm self-inflating air mattresses with all your bedding including a duvet and pillow.  The campsite doesn't have hot showers, just a cold water outdoor shower, but the location is simply stunning.

                                                                       

            *Open from mid-December until the end of February

A short water taxi ride back to Marahau to stay in modern, comfortable & stylish B&B style accommodation.  Requires a water taxi back to Anchorage in the morning to continue your walk.  No dinner is included with 2 local restaurants for you to choose from. 

*Option year-round
Approx. 6-7 hours walking – 18.8kms 
You'll begin your day walking along the wonderful beach at Anchorage before heading on to Torrent Bay and the iconic Falls River Swing Bridge. Further up you will find Bark Bay, a great place to eat lunch and go for a swim. From this lovely spot you'll head up the track's largest ascent through stands of mānuka before walking back down to sea level to Tonga Quarry. A little further on you will discover Onetahuti Bay where an almost perfectly crescent shaped beach awaits you. You'll be able to take off your shoes and enjoy walking barefoot along the beach before heading over to the exquisite Awaroa Lodge. This is the biggest day.
After a rejuvenating shower in your room you'll be ready to enjoy the renowned restaurant there for your evening meal (not included)
Approx. 3 hours walking – 8.1kms
This morning you will head out to explore the area and make your way to the Awaroa Inlet Crossing. After completing the crossing you'll enjoy tramping through a breathtaking podocarp forest that leads to the golden sands of Waiharakeke and Goat Bays. Then you will make the final ascent to the popular camping spot of Totaranui.
From Totaranui the Aquataxi will pick you up and return you to Marahau, passing all the beautiful golden sand beaches that you explored during your trip. From Marahau our land transport will return you to Nelson.
Or spend another night at wonderful Awaroa Lodge!
Or you might like our 3 Day Guided Journeys
Or stay a little longer and add time for kayaking?